VE VI VU standard series is a light-weight series from the JINB bearing range.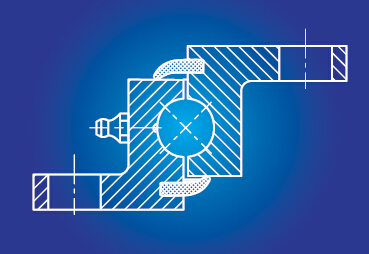 For reasons of economy the bearing cross sections in this standard series are relatively small. It is, therefore, necessary to mount these bearings on a distortion-proof companion structure.
The contact surfaces for the bearings must be flat to avoid bearing distortion during bolting as this might cause tight spots in the raceways which would lead to peak loads at these points. For this reason, machining of all contact surfaces is required.

In cases where finish-machining is not possible, any remaining out-of-flatness may be compensated for by means of a cast resin grouting.

Accuracies
The bearings are available in two classes of accuracy:

Standard bearings
Precision bearings

The bearing clearances for the individual bearing types are listed in the respective dimensional tables.

Installation, Lubrication, Maintenance, please contact JINB.

The hardness gap (beginning and end of the raceway hardening zone, marked by a punched-in "S") or the filler plug on the profile ring should be located in the neutral low-load zone of the point-loaded ring.

lf a central lubrication system is provided, the existing lubricating nipples may be removed and replaced by the following adaptors.

Materials:
C45, 50Mn or 50MnQT, 42CrMo or 42CrMo4
Rolling elements
bearing steel (GCr15)

Ball tracks
unhardened or induction-hardened
Available adaptors